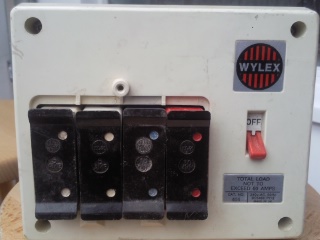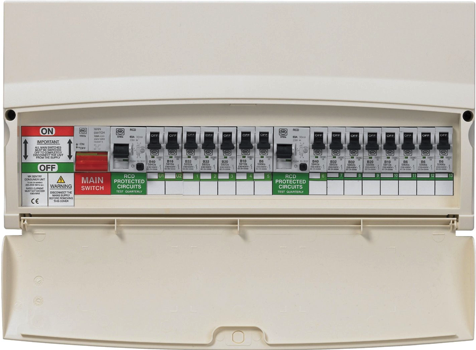 Are you due an upgrade?.
Consumer unit or fusebox is used to control and distribute electricity around our homes. They usually contain:

A) Mains switch

B) Fuses or Circuit Breakers

C) Residual Current Device

Mains Switch
The mains switch allows you to turn off the electricity supply to your electrical installation. Some electrical installations have more than one mains switch, for example, if your home is heated by electric storage heaters, you may have a separate consumer unit (fuse box) for them. The consumer unit should be easy to get to, so find out where the mains switch is to turn the electricity off in an emergency.

Fuses
Rewirable fuses have a piece of special fuse wire running between two screws. When a fault or overload current flows through the fuse wire, it will become hot, and melt when the current goes above an acceptable level. The melted fuse breaks the circuit, disconnecting the faulty circuit.

Circuit Breakers
Circuit breakers are automatic protection devices fitted in the consumer unit which switch off a circuit if there is a fault. Circuit breakers are similar in size to fuseholders, but give more precise protection than fuses. When they 'trip', you can simply reset the switch. However, you first need to find and correct the fault.

Residual Current Devices
An RCD is a switching device that trips a circuit under certain conditions, and disconnects the electricity supply. If your electrical installation includes one or more RCDs, test them regularly. You can do this by following the instruction label, which should be near the RCD. The label should read as follows: 'This installation, or part of it, is protected by a device which automatically switches off the supply if an earth fault develops. Test quarterly (every three months) by pressing the button marked 'T' or 'Test'.' The device should switch off the supply. You should then switch it back on to restore the supply. If the device does not switch off the supply when you press the button, contact an electrician. Testing the button every three months is important. However, do not hold the test button for a long period if the device does not trip. If the RCD does not switch off the supply when you press the test button, get advice from a registered electrician.

We have changed thousands of old fuseboards with modern ones over the years, bringing many homes up to a safe standard.
As we are members of the NICEIC we we follow strict guidelines to make sure all work is carried out correctly and safely.
All work is done to BS7671 Standards and will comply with the 17th Edition regulations.
Be rest assured your job will be carried out to a very high standard and will be completed competently and professionally.
Contact us for more information and our very competitive prices